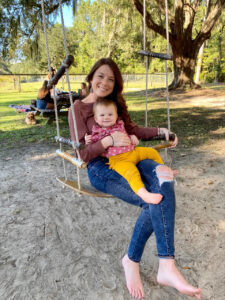 Rachael MacDonald
Pediatric Speech Language Pathologist
Sweet Talkers Speech Therapy, LLC
Rachael MacDonald
Rachael received her bachelor's degree in Communication Sciences and Disorders from Penn State University, and a Master's in Speech Language Pathology from James Madison University. She began her career as a speech language pathologist in Jefferson County Schools in West Virginia, where she developed a passion for working in the school setting, helping students with communication needs access the curriculum and working with teachers to help support students' communication in the classroom. After relocating to Charleston, she worked in Berkeley County schools for 6 years where she gained valuable knowledge and experience working with a large variety of ages and needs, including non verbal communicators, children with learning disabilities, attention deficit disorders, dyslexia, stuttering, phonological and articulation impairments, apraxia, social skills, and expressive and receptive language disorders.
Rachael is passionate about child led therapy and meeting children at their level. She loves incorporating play, music, and literacy-based activities into therapy to keep kids engaged and help them learn. She is excited to join the Sweet Talkers team in James Island and serve children in her local community.
In her free time, Rachael enjoys boating, biking, and beaching with her husband and 2-year-old daughter. She also likes traveling and exploring new places.