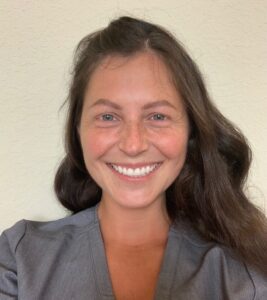 Casey Sullivan
Pediatric Speech Language Pathologist
Sweet Talkers Speech Therapy, LLC
Casey Sullivan
Catherine, who goes by Casey, was born and raised outside of Philadelphia, PA. She received her B.A. from Lafayette College and M.S. from New York Medical College. She moved south in 2020 for new opportunities (and nicer weather!). 
Casey's work is her passion. She considers herself a forever student, frequently taking continuing education courses and reading articles to keep up with the current literature. She was recently trained in Rapid Prompting Method (RPM Level 1) to support nonspeakers, Dynamic Temporal and Tactile Cuing (DTTC) for apraxia, and she is knowledgeable on the topic of Gestalt-Language Processing.
Casey has this to say about her work:
"As a neurodivergent Speech-Language Pathologist myself, I understand from lived experience that it is impossible to 'cure' someone of their neurodivergencies—it's a part of what makes a person who they are. Instead, I aim to support the communication of all my clients so that they may live fulfilling lives. Most of my visits are child-led and may also involve coaching caregivers and families on altering their environments to support the needs of their loved ones. I value authentic connection and self-advocacy over compliance. My favorite thing about my job is getting to be a part of someone's journey."
Outside of sessions, you might find Casey with her cat, playing tennis, or just exploring the amazing city that is Charleston!